THE BLECH [about]
CHEERFULLY ACROSS THE ABYSS … AND BEYOND!
The German band THE BLECH became known when they came on the scene in 1985, using a combination of experiments with language and music, with a fondness for absurd plays on words. In subsequent years, the band developed these musical experiments into one of the few timeless approaches to pop music in Germany, which enjoyed worldwide acclaim. THE BLECH have helped to overturn an artistic millenium which, as a basis for the relationship between Man and nature, had clung to harmony.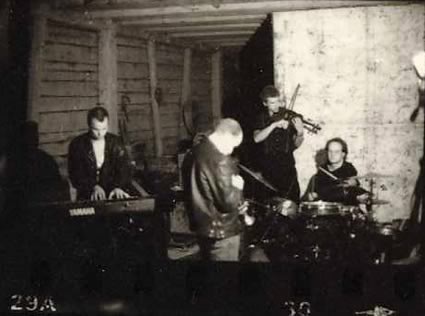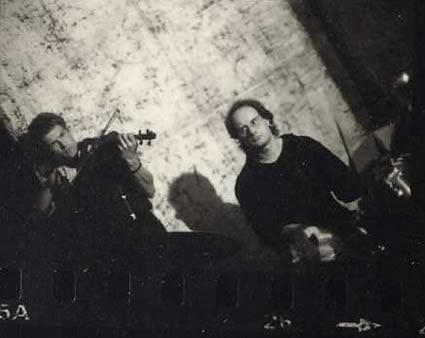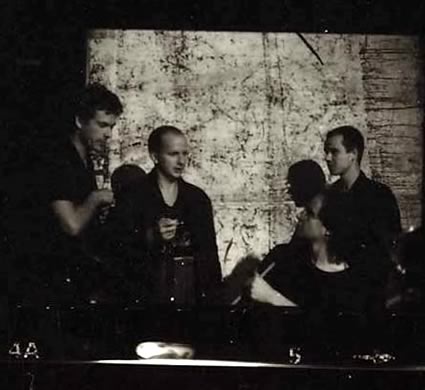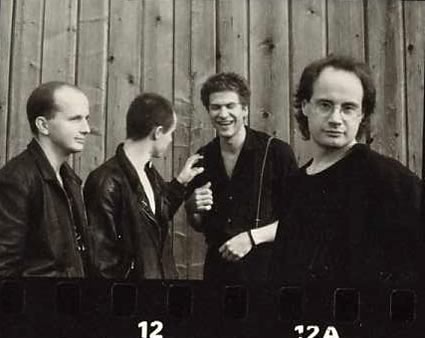 THE ETERNAL ANTAGONISM
THE BLECH combines what appears to be uncombinable. Construction – destruction, chaos – control, aggression – beauty, they have unified all of these opposing poles into a hard, yet fantastic feeling. The ensemble created a large-scale, multi-level, paradoxical game employing a number of media in order to disappear behind the shrouds of their self-created confusion. Moving between dadaism and techno, U2 and Stockhausen, the rock music of THE BLECH is charged with multi-faceted meaningfulness. The thoughts they intend to provoke, however, are not guided along a fixed path, leaving room for freedom of choice among innumerable possible interpretations.
The room in which they rage as if obsessed, swirls and sways. A friend's shoe lies dead on stage. Someone else is struck on the head with something hard. Enlightend by a vision, he spies the Virgin Mary as she stady lowers herself from the chandelier; A show for the primadonna's pants, the lama's tail at the zoo and for you".
CULTURAL DECEPTION, EROTICISM AND SAUERKRAUT
Hubl Greiner explains the band's definition of music as follows:
"We ask questions without knowing the answers. We love painting pictures with a view to challenging and provoking the viewer to derive his or her own answers. We call on the onlooker to participate in a creative process. We depict life as an insanely witty, simultaneous concert of murder, cultural deceit, eroticism and sauerkraut. We dissolve the eternal controversy of contrasts in laughter. We convinced the Virgin Mary to wed the devil.
Our show! It's certainly not intangible but more like a "driving home" of wedges, resulting in altercations between chair legs, bunches of keys and boot jacks.
The music of THE BLECH is the clamour, the screeching of the brakes which suddenly attacks those lost in the melody. The music shows an unscrupulous variety of colours, it takes life as it is, a mad simultaneous concert of murders, cultural lies, erotic and sauerkraut, it tears apart ethics and the lie of personal responsibility. This life also means lowness, rape and drunkeness – it is the eternal conflict of the contrasts. I have the opinion, that the instinct of mutual help is a throughout egoistic action.
I merely proceed from the assumption that life is an, in itself fighting, always moving incalculable row of phenomenons, equal to a department store, in which the signals´rattling never stops and in which moving stairs whiz through the floors. To fight is an obvious condition. To wish for paradise is a misunderstanding of life itself."
HIGHLIGHTS | festivals/concerts
* 5. RENCONTRES DE MUSIQUES ELECTRONIQUES, Wissembourg/France
* "MUSIK UND THEATERFESTIVAL" Singen
* Festival "MUSIQUES ACTION INTERNATIONALE 87" Nancy/France
* "FREE MUSIC PROJECT", (Live at Radio France Culture, Paris, with Tom Cora)
* "HUGO BALL AUSSTELLUNG", at Lenbachhaus/Munich and Kunsthaus/Zürich
* "LAUSCHANGRIFF-FESTIVAL", Hannover
* Festival AVIGNON
* Concert at DOKUMENTA KASSEL 87
* Festival at "PALAST DER REPUBLIK", East Germany
* JAZZHAUSFESTIVAL KÖLN
* EDATANTES MUSIQUES, Dijon/France
* JAZZFESTIVAL "DOM OMLADINE BEOGRADA", Belgrade
* GÖTTINGER JAZZFESTIVAL, at "Deutsches Theater" (with Franz Dobler)
* INTERGALLAKTISCHES LÄRM UND STRUKTUR FESTIVAL, Stuttgart
* FESTIVAL "RHEINKULTUR", Bonn
* CONCERTO EXT Praca da Liberdade, Rio de Janeiro/Brazil
* KLANGWOLKE, at Potsdamer Platz Berlin
* FESTIVAL BARBUE, Kopenhagen/Denmark
* CLUB QUATTRO, Tokyo/Osaka (with Sohrab Saadat Ladjevardi)
* JAZZFESTIVAL BERLIN (Jazzfocus)
* MUSIK MOSAIK, Linz/Austria
* MULTIMEDIALE (Zentrum für Kunst und Medientechnologie), Karlsruhe 89
* WOODROCK FESTIVAL
* FERIENKURSE FÜR NEUE MUSIK, Darmstadt (with Joachim Krebs, Tilman Küntzel)
* Festival "TRANSMISSION", Berlin/Tempodrom
* MELKWEG, Amsterdam
* OPERAHOUSE ST. PETERSBURG
* Solidarity concert for the citizen forum (Prague)
* BAND OF THE YEAR 1989, Czech Republic
* DAS FEST, Karlsruhe
* ROCKFESTIVAL at the ice-hockey stadium Prague
* WRO 90 Sound Basis Visual Art Festival, Wroclaw/Poland
* FESTIVAL PORTA 90
* ARTROCK-FESTIVAL, St.Etienne/France
* Tour with "Deutsche Bundesbahn"
* Concert at DOKUMENTA KASSEL 92
* DISSONANTEN, Rotterdam
* ART ROCK INTERMEZZO at Volksbildungsheim Frankfurt
* Festival Kufstein
* Festival AREA SISMICA, Italy
* Festival VICTORIAVILLE, Montreal
* Festival MIMI, Marseille
* Festival "Zentrum für Kunst und Medientechnologie", Karlsruhe
* ODENWALD Festival of Mani Neumeier (Guru Guru)
* Festival LAUSCHANGRIFF, Nürnberg
* International FESTIVAL INTERWEEK, Novosibirsk
* Festival BERLIN IN MOSKAU (Concert at Theatre Mossowjet Moscow, parts of the concert were shown in ARD Tagesthemen, ZDF Kulturspiegel and NTV)
* Talkshow with Artemy Troitsky in TV Russia
* Concert at the Dynamo football stadium Moscow (broadcasted live in TV Russia)
FURTHER CONCERTS/FESTIVALS
North- and Southamerica, Canada, Japan, Russia, Siberia, Italy, France, Denmark, Hungary, Spain, Belgium, Austria, Switzerland, Poland, Czech Republic, Slowenia, Croatia, Netherland, Slovak Republic
THE MUSICIANS
• Hubl Greiner … drums, machines, objects, marimba, piano, bass, percussion
• Der Volz … vocals, brass instruments, trumpet, guitar, lyrics
• Helmut Bieler-Wendt (1989-1994) … violin, violectra, piano
• Shirley Hofmann (1990 -1993) … brass, piano, accordeon, vocals
• Jens Volk (1992-1994) … bass
• Therofal (1986-1989) … bass, sampler, vocals
• Sandra Silva Coutinho (1991) … bass, vocals
• Achim "Bagdad" Schmidt (1987) … violine
STUDIO GUESTS
Delal, vocals
Ze Eduardo Nazario, Brazilian percussion
Edgar Hofmann, saxophones, arabian clarinet, bass clarinet
Stephan Lamby, tenor saxophone
Alvaro Pena Rojas, vocals
Sonia Ushiyama Souto, artworks
Tomas Perez, percussion
"Sadato" Sohrab Saadat Ladjevardi, saxophone
Mia Zabelka, violin
Bruno Steiner, trompete
Paul Amrod, keyboards
HF Coltello, guitar
Mike Robertson, bass
Hendrik Weissmann, keyboard
Sexo, saz
MANAGEMENT
Richy Richter
Uli Balss/Jaro Medien GmbH
SOUND ENGINEERING
Manfred Ostermay
Thomas Nickel
K.H.Backes
Ivan P.Lang
Gunni Heidler